Chain of Love
See on Scoop.it – The War Against Mothers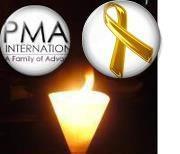 Protective Mothers' Alliance International's insight:
I hear many people complain that others are so selfish in todays' world. We have no sense of community and do not help each other or extend a kind hand to lift someone up when they are down. While much of this is true, I see the people who complain do little to help change this state of affairs. This holiday season I challenge all PMA INL leaders, members, supporters and friends to do at least one act of kindness for someone in need or a stranger. Let's start a chain of love with our actions. Feel free to post what you did and how it made you and the recepient of your love act feel on our PMA INTL Face Book page. Let's see how many moms we can get to participate. Change is in your hands.Be a beacon of light for others to follow. Be an example of love for your children . One simple act of loving kindness creates a ripple effect and permeates our society with love. As Mother Teresa once said;
"We ourselves feel that what we are doing is just a drop in the ocean. But the ocean would be less because of that missing drop."
You ARE important. You CAN make a difference. Let us join together in unity and start a chain of love acts this Holiday Season. With Love and Peace for a better world. PMA INTL.